Obituary for Agnes Chester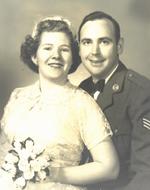 Agnes P. Chester, 82, of Tremblay Avenue, passed away Sunday, November 5, 2017 at her home with family by her side and under the care of Hospice of the North Country.
She was born in Plattsburgh on March 30, 1935, the daughter of the late Raymond and Agnes (Garrow) Tobin.
Agnes was a loving wife, mother, grandmother and great grandmother and her family was her life.
She is survived by her children and their spouses; Louis Chester of Albany, Florence "Flo" and Keith Barber of Beekmantown, Brenda and Mike Barcomb of Cumberland Head, Lee Ann Malseptic of Plattsburgh, her brother; Frank T. Tobin of Florida, her grandchildren; Damien Chester, Tracey Duprey, Christina Velie, Jessica Oliver, Mikey Barcomb, Nathan Barcomb, Ashley Barcomb, Michael Malseptic, Marc Malseptic, and their families, and several nieces and nephews.
She was predeceased by her husband Denzil "Danny" Chester, her three sisters and her son in law Ronald Malseptic M.D..
In accordance with Agnes' wishes, there will be no calling hours. Graveside services will be held on Monday, November 13, 2017 at 1:00 pm at St. Peter's Cemetery. In lieu of flowers, memorial donations may be offered to Hospice of the North Country.
Arrangements are entrusted to Brown Funeral Home, 29 Broad Street, Plattsburgh, N.Y. 12901. (518) 561-3980. Online condolences may be made and memorial candles lit at www.brownfuneralhomeinc.com.
Order Flowers